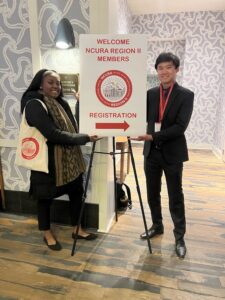 GRANTS MADE: Grants and Research Administration Networking and Training for Students across Maryland and Delaware's 7 Minority Serving Institutions (MSIs)
---
This project is supported by the Growing Research Access for Nationally Transformative Equity and Diversity (GRANTED) program of the National Science Foundation, Awards #2324412, 2324413, and 2324414.  Through a series of convenings and a final symposium, this project develops best practices for a regional pipeline program to establish internships in research administration for students of the seven four-year Minority Serving Institutions (MSIs) in Maryland and Delaware. The internships will allow students to gain experience and familiarity with research administration as a career pathway. By recruiting and retaining the next generation of research administrators, this internship program helps expand and diversify the research administration workforce and builds research capacity, while establishing a model that other institutions can follow.
The series of convenings supported by this project engage multiple stakeholder communities in a collaborative, partnerships-driven process. Regional convenings bring together student interns and research leaders, administrators, and campus professionals from across the seven Maryland and Delaware MSIs to identify ways to promote research administration to students as a career opportunity.  National convenings bring together members of professional societies in research administration to discuss how best to train students to meet the needs of the broader research administration workforce. In a final symposium, participants and student interns finalize best practices for developing the regional research administration internship program. In addition to a culminating white paper, participants and student interns are included as co-researchers on presentations and workshops at regional and national conferences and papers for research administration journals. These deliverables chart a course for establishing and expanding sustainable, replicable, and scalable internship programs at other universities, to further build equitable and inclusive environments for research administration.
Kara Seidel is a graduate assistant on the Hrabowski Innovation Grant and the GRANTED award, and assists with other research-related tasks as needed. On the Hrabowski Grant, she is responsible for project management and works with the PIs on data collection and analysis. Kara has a B.A. in Psychology from UMBC (valedictorian c/o 2018), and an M.S. in Education from Johns Hopkins University (conferred 2020).

---

---

Alexis Johnson is a Financial Economics student with a minor in Entrepreneurship and Innovation. Prior to working with Dr. Mallinson and the CARAT team to manage the GRANTED award, she helped frame the internship program for Research Administration at Johns Hopkins School of Medicine as one of two inaugural interns. After completing her bachelor's degree, Alexis will begin her career in budget analysis and eventually return to school for higher education. Outside of work hours, Alexis likes to spend her time taking care of others and serving communities through volunteering.

---

Andy Quach is with the iHARP/COEIT team working on the GRANTED Award project. Currently, he is a junior pursuing a B.S. in Financial Economics with a minor in Information Systems and Accounting Certification. Andy plans to attain his Certified Public Accountant (CPA) license after completing his bachelor's degree.