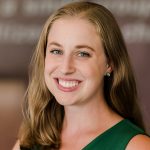 Myriam Ralston
External Relations Coordinator
myriam@umbc.edu
Public Policy Building 404
410-455-8457
Myriam Ralston received her Master in Public Policy from the McCourt School of Public Policy at Georgetown University in 2014. She received her B.A. in Political Science from Barnard College of Columbia University. She got her start in the non-profit world as an AmericorpsVISTA volunteer at a community action agency in Lowell, MA, and continued to work in human services as a case manager before moving to DC for graduate school. During and after graduate school, Myriam worked at the Georgetown Climate Center, and later at the Center for American Progress, in environmental and energy policy. She joined UMBC in 2018 as the External Relations Coordinator for both the Center for Social Science Scholarship and the School of Public Policy. Myriam also teaches yoga part-time, and loves combining yoga and workplace wellness.