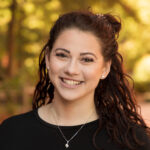 Kara Seidel, M.S.
LLC PhD Student
Research Assistant, CS3
Public Policy Building, Room 422
seidelk1@umbc.edu
Kara Seidel is a graduate assistant on the Hrabowski Innovation Grant and on the GRANTED award, assists with other research-related tasks as needed. On the Hrabowski Grant, she is responsible for project management and works with the PIs on data collection and analysis. Kara has a B.A. in Psychology from UMBC (valedictorian c/o 2018), and an M.S. in Education from Johns Hopkins University (conferred 2020).