Spotlight on: Virtual Trading Room
Virtual Trading Room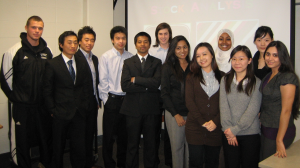 The Department of Economics Virtual Trading Room, a democratically-run student investment fund, began in 2010 with twenty students and $20,000. Professor Chunming Yuan spearheaded the project, which he hoped would provide students with entrepreneurial training. Guided by a faculty committee, students in Yuan's Portfolio Analysis course take part in managing the fund throughout the year. Students with a strong financial background are welcome to join regardless of major, but the class consists mainly of financial economics and economics majors. However, students with different backgrounds, like Information Systems majors, bring different trading strategies to the table.
The investments comprising the student-run fund are basic investments: stocks and bonds, with no futures or currency trades. The class as a whole acts as portfolio manager. To determine which stocks to pursue, students working in trading teams choose a company, research its financial prospects, and present their case to the class. The entire class then votes on stocks to invest in based on the persuasiveness of the group presentations. Before jumping into trading with real money, students participate in a simulation involving fake money.
According to Yuan, the students come to the project with a serious attitude about investing; they appreciate the use of real money and bear real risk when choosing investments. Ultimately, the goal is to have a student-run stand alone fund with faculty advising only, but students taking the reins.
The Portfolio Analysis course and its investment fund also provide opportunities for the Economics department to partner with financial institutions. Professionals in the field are often guest lecturers, and students have gone to work for major investment companies like Merrill Lynch and T. Rowe Price.