Spotlight on: Immigration and Mobility in Higher Education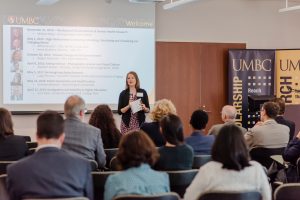 In the late spring, the UMBC Center for Social Science Scholarship (CS3) convened researchers for the 2019 Research Forum: Immigration and Mobility in Higher Education. The event was the fifth in a UMBC research forum series that highlights original research and interdisciplinary discussions about pressing national and international issues. Christine Mallinson, director of CS3, co-hosted the event with Karl Steiner, vice president for research, to spotlight UMBC's immigration research and to enable new collaborations.
Panelists and attendees included UMBC faculty, staff, and students from the College of Arts, Humanities, and Social Sciences (CAHSS), College of Engineering and Information Technology (COEIT), and College of Natural and Mathematical Sciences (CNMS), as well as the Office of International Education Services.
Julie Park, associate professor of sociology and director of Asian American studies at the University of Maryland, College Park, delivered the event's keynote address. Park spoke to the changing demographics and intergenerational mobility of new immigrants who are working to attain secondary and postsecondary degrees.
The first panel, "Borders of Opportunity: Migration, Education, and Mobility and Immigration Policies," focused on global education, the social welfare of immigrants in the U.S., and the information-seeking behavior of highly educated immigrants.
The second panel examined "Immigration Policies and Politics: Local, National, and International Impact." Four UMBC faculty presented the latest research about higher education policies and their effects on immigrant and international students. They also discussed the current landscape of international research exchange in higher education and the role of higher education associations in immigration policy debates.
After participants and audience members listened to the panelists they were given an opportunity to share different perspectives on these issues through microtalk roundtables. Groups joined sessions on law and policy, transnational migration, and higher education.
Read more about the forum at UMBC News.