Spotlight on: Global Baltimore
Global Baltimore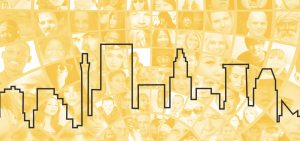 Case-studies on globalization in the community
Professor Felipe Filomeno's Approaches to Globalization course takes a community-based, hands-on view to educating UMBC undergraduates about the nuances of globalization by examining how organizations in Baltimore City have experienced globalization. Global Studies majors in the course performed research with the organizations including interviews, data analysis, and published case studies in a report released in 2015.
One goal of the project was to expand student perspectives of their city and how globalization impacts Baltimore's many organizations. Some students had later work impacted by the project, from internships and jobs, to publishing additional research building on the project, or bringing the knowledge base with them to grad school.
While students practiced research and analysis skills, they also brought awareness to the organizations they examined, helping these organization examine and understand their engagement with globalization.
The case studies highlighted in the final report include examinations of globalization's impact on a range of unique organizations in Baltimore including the aquarium, farmers' markets, cafes, and a Montessori school.
Community evaluation on immigration policies
In 2018, Professor Filomeno performed a deeper dive of the international aspect of Baltimore. Resulting in a final report titled "Baltimore's Policies to Attract and Retain Immigrants," in collaboration with the Baltimore Mayor's office, Filomeno's research team interviewed subjects and held focus groups to examine Baltimore's policies and programs that encourage immigrant settlement and integration into the city. The team presented its research to the Baltimore City Hispanic Commission in fall 2018.