Spotlight on: Climate Change in the Classroom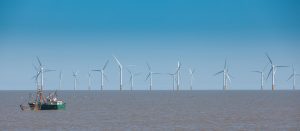 In January 2020, we spoke with Dr. Maggie Holland and Dr. Dawn Biehler, faculty members in the Department of Geography & Environmental Systems, about a new course offered in GES: Climate Change and Society: Global Change in the Maryland Context. Dr. Holland and Dr. Biehler designed the course together, and are co-instructors. They plan to offer it again, university-wide, in Spring 2021. 

What was the impetus behind offering this new course?
Conversations have been going on for a number of years at UMBC about teaching a broad climate change course. The two of us finally found the time to do it this semester. So it's overdue, but it's also timely in that several US states, including Maryland, are trying to rise to fill the gap left by the US withdrawing from the Paris Agreement [of the UNFCC]. It is an important time to focus particularly on what is the responsibility of states to address climate change, and what are the opportunities and benefits for environment and justice that we can achieve by becoming climate leaders.
Has GES previously offered climate change-focused courses?
Climate change is certainly a theme woven into many of the courses we offer in GES including our set of large introductory courses: human geography (GES 102), physical geography (GES 110), and environmental science and conservation (GES 120).  Our colleague Dr. Jeff Halverson also offers GES 415: Climate Change, which is focused on the science of climate change broadly, including modeling and prediction of climate change patterns. Dr. Halverson's course has a 300-level science prerequisite, and we wanted to offer a course that would be available to people who don't have as much science background, and that focuses on the relationship between environment and society.
What do you think is unique about how Maryland is facing the impacts of climate change?
I wouldn't say Maryland is necessarily more deserving of attention than other places, but as the home of UMBC it is a great laboratory for studying the social side of climate change, as well as understanding what actions are possible at the state-level. Maryland has huge disparities of wealth and poverty. We have farms, islands and coastlines, and big cities right on the water. We have the Chesapeake Bay, and a long history of multi-state collaboration to restore health to the Bay.  We have heavy vehicular traffic that contributes to emissions, but we also have efforts to improve public transportation. We have some helpful policies for increasing renewable energy use, but also policies that expose communities of color to pollutants.
What are some of the key goals or takeaways of the course?
We want students to feel confident in communicating about climate change with their peers, families, and the public, so that they can speak as citizens of the world to the need for effective actions and policy. We want students to understand the positive solutions that are in process and that are possible, to help combat feelings of helplessness that, research shows, are often provoked by discussion of the climate crisis. We want students to know that Maryland is a contributor to climate change, but as a relatively privileged state it can also be a leader in adopting solutions and ensuring justice for communities affected by energy transitions as well as pollution.
Can you describe your own interest in teaching on this topic?
(D. Biehler) My research focuses on the urban environment in American cities, and my projects have examined healthy, housing, open space, and human-animal interactions, all with an eye toward environmental justice. Although none of my past projects have been centrally focused on climate change, it has come up constantly in my research. Houses and open spaces can provide refuge from heat, or they may expose city-dwellers to more suffering. Heat and climate affect health in myriad ways, from the side effects of medications to exposure to infectious diseases. Climate change may affect the ways wildlife use urban habitats. And all of these can have highly inequitable effects on human communities.
(M. Holland) My research focuses on forest conservation policies and programs mainly in the tropical regions of the world.  The teams that I work with in countries like Costa Rica, Ecuador, and Mozambique are interested in improving the ways in which local communities are empowered to both conserve biodiversity while also using natural resources sustainably.  In all the places where I conduct research, climate change isn't a politically-charged topic with people polarized in a debate over what is driving it.  Changing climate conditions are already directly affecting people and ecosystems and their ability to thrive.  I saw this most directly when central Mozambique was devastated by two massive cyclone events (Cyclones Idai & Kenneth) over the course of just three months last year (2019).  I certainly bring those experiences from the field with me into my life and work here in Maryland.  I want to develop better ways to communicate on climate change issues and be an informed advocate for certain solutions, and I can see that students feel much the same way.  As someone who was born and raised in Maryland, also now raising a family in Maryland, I feel quite committed to helping others understand how to be more active communicators and advocates for urging the State forward in climate action.
Who should take this course?
Everyone is or will be affected by climate change, and we are all citizens of the world who should be knowledgeable about how we contribute to greenhouse gas emissions, how our fellow earthlings will be affected, what solutions and policies will be effective, and just which actions might actually sharpen disparities vs. lessen them.
Is there anything else you want us to know about this course, or the role of studying climate change in education?
We consider this year's course the pilot (or "incubator") class, and it will help us develop our concept to teach a larger climate change and society class accessible to more students in future years.  We were fortunate to receive seed funding via the Hrabowski Innovation Fund this year, and we will use some of this support to track and observe the current cohort of students.  Specifically, we're interested in seeing how their own perceptions change related to climate change, how their confidence and comfort in communicating on climate change shifts, and how their knowledge evolves regarding the connections between climate change and other issues in Maryland.  It's exciting to have this opportunity to learn from how the students develop over the course of this semester, and this will help us to enhance the course in the future.