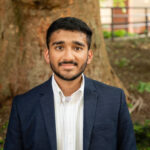 Nehal Naqvi
Undergraduate Data Science Scholar
nnaqvi1@umbc.edu
Nehal Naqvi is a political science and statistics student at the University of Maryland, Baltimore County (UMBC) where he is a Sondheim and Blaustein Public Affairs Scholar, a member of the Honors College, and a Data Science Scholar within UMBC's Center for Social Scholarship. His academic focus areas include Research Methods, Public Policy, and Applied Statistics.
As a part of CS3, Nehal is assisting with the EAGER project on deepfake detection through survey design/administration and data analysis using statistical methods.