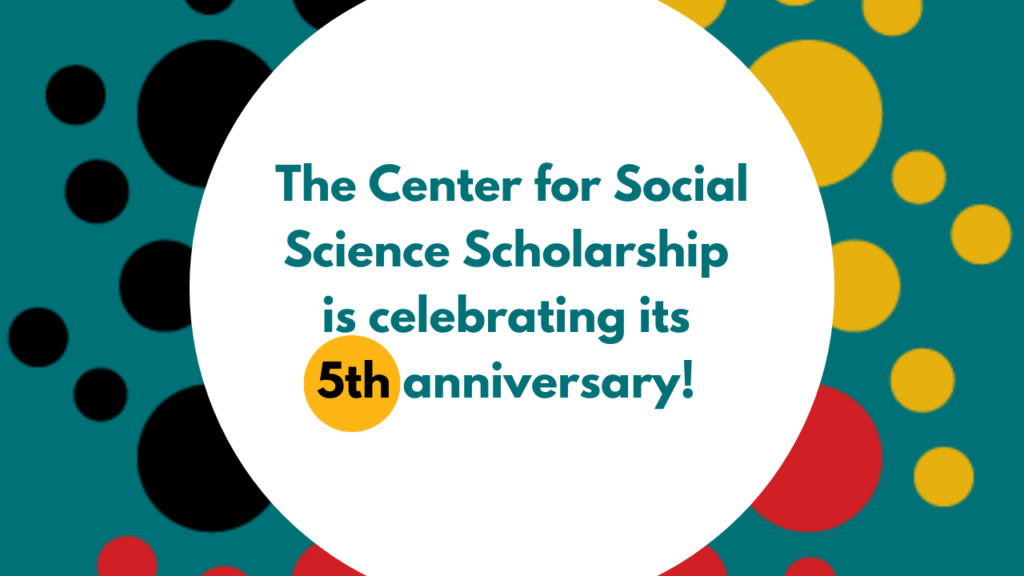 During the 2023-2024 academic year, the Center for Social Science Scholarship is celebrating 5 years of supporting and promoting the social sciences at UMBC!
To help us mark the occasion, please consider donating below and attending our celebratory events.
---
5th Anniversary Celebration Events
Thursday, October 12, 2023
4:30 pm
AOK Library Gallery

Social Science Research in Government, Business, & Non-Profit Careers: An Alumni Panel

Research is about solving real world problems. The skills you learn while writing a research paper or taking a research methods course are valued in careers in government, business, and the non-profit industry. Join us to learn how UMBC alumni are using social science research to support government and business clients.  The panel will be moderated by CS3's Associate Director, Dr. Felipe Filomeno, and will be followed by networking and refreshments.

---

Panelists:

Delta Merner, PhD (GES '14) Lead Scientist, Science Hub for Climate Litigation at the Union of Concerned Scientists
Brent Gibbons, PhD (PUBL '13)  Health Policy Researcher in the Health Economics Program at RTI International
Brittany Gay, PhD (PSYC '21) Associate Director of Implementation Science at the Research-to-Policy Collaboration (RPC)
Spring 2024

Special Social Sciences Forum Lecture

Stay tuned; details coming soon!
---
From CS3's Director
In its fifth year, CS3 has raised the visibility and engagement of faculty across the social sciences at UMBC.   We have built a community for faculty, professional staff, students, and alumni.  CS3 offers support in the form of summer fellowships for faculty, small research grants for faculty of all ranks and students of all levels, and working groups for faculty and advanced graduate students.  CS3 offers numerous lectures and workshops connecting the larger UMBC community and off-campus partners.
To make a secure one-time or recurring gift, click the "Donate" button below to visit the UMBC Giving site.   You will receive an immediate e-mail confirmation of your gift. Your gift will help support public facing efforts, like our podcast, which launched in Fall 2021.  It will also help us to provide even more student research grants.
Thank you on behalf of CS3,
Christine Mallinson
Director and Professor of Language, Literacy, and Culture