Spotlight on: Summer Faculty Research Fellowship
Congratulations to the 2019 CAHSS/Center for Social Science Scholarship
Summer Faculty Research Fellows!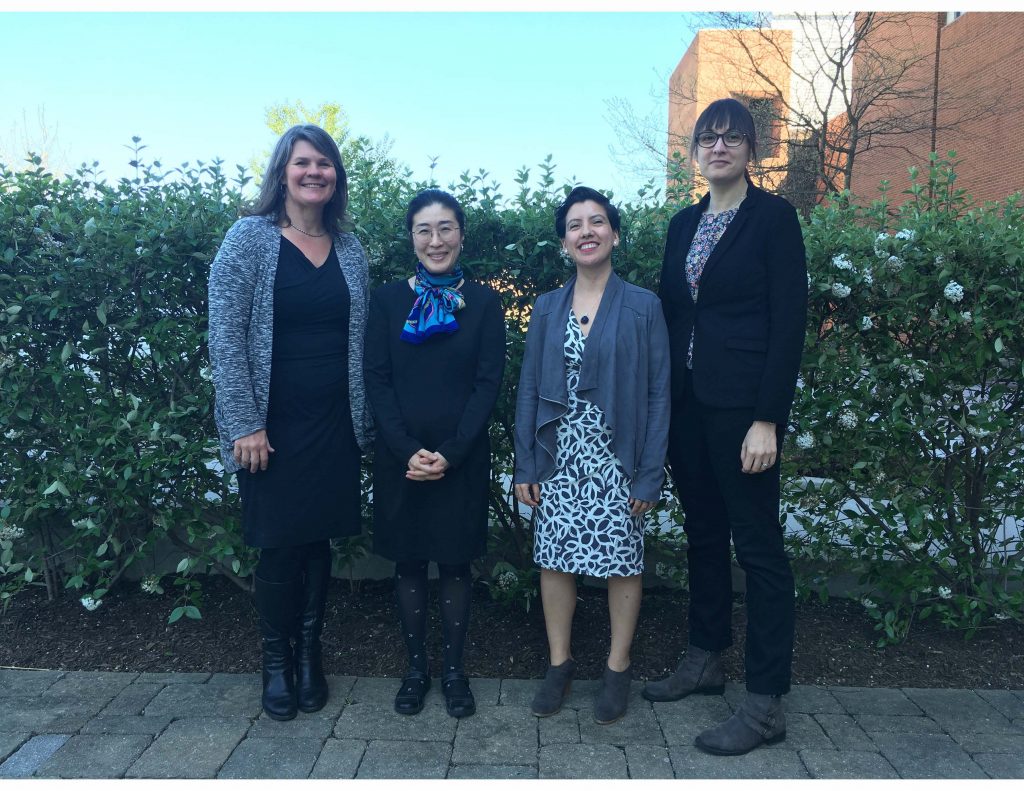 (L to R) Bambi Chapin, Jiyoon Lee, Tania Lizarazo, Dena T. Smith
Bambi Chapin 
Associate Professor of Anthropology, Sociology, Anthropology, and Health Administration and Policy
Project Title: Change and Continuity in Sinhala Families in Central Sri Lanka
This project builds on my earlier ethnographic fieldwork with Sinhala families in central Sri Lanka to examine how family life, parenting, and women's experiences have changed and continued in patterned ways since 1999. This follow-up research will focus on the families of three women in particular who were teenagers at the time of my initial study two decades ago and who are now married with children of their own, as well as with other families from my earlier work. This research will contribute to my ongoing work with families in the U.S. and Sri Lanka to understand processes of cultural transmission and change.
Tania Lizarazo 
Assistant Professor, Modern Languages, Linguistics & Intercultural Communication and Global Studies
Project Title: Postconflict Utopias: Performing Everyday Survival in Colombia
My book, Postconflict Utopias: Performing Everyday Survival in Colombia, and digital storytelling archive, Mujeres Pacíficas explores how Afro-Colombian women living in the militarized Chocó Department understand their personal journey to becoming activists. For the comisionadas, survival is not accidental, but an embodied collaborative practice, requiring a daily commitment to living in the midst of a decades-long (but often denied) armed conflict. Through an ethnographic analysis of the commissioners' activities and their networks as well as drawing from different sources (e.g. digital stories, museums, marches, alternative archives, fieldnotes), I highlight the political potential of alternative memories and archives. I argue that postconflict utopias are world-making strategies that make day-to-day survival and activism possible, in spite of violence. The Center for Social Science Scholarship Summer Faculty Research Fellowship (SFRF) will support the completion of the book manuscript by August 2019.
Jiyoon Lee 
Assistant Professor, Education
Project Title: Developing a Model to Understand Learners' Assessment Literacy
My research project aims to better understand second language learners' engagement in and perceptions of both standardized and classroom assessment practices. The accountability discourse in P-12 education in North America draws great attention to assessment literacy, which refers to education stakeholders' understanding of assessment principles and consequences and skills (Fulcher, 2012; Lee, 2019). However, the existing models of assessment literacy exclusively focus on teachers, test-developers, and policymakers. Considering the inter-connected relationship between instruction, learning, and assessment, it is critical to incorporate learners' perspectives in our understanding of assessment literacy. My research project will explore second language learners' assessment literacy in order to better conceptualize assessment literacy and develop a better-fitting model.
Dena T. Smith 
Assistant Professor of Sociology, Sociology, Anthropology, and Health Administration and Policy
Project Title: Psychoanalytic Residue? Psychodynamic Principles in Psychiatric Treatment
My project investigates how psychodynamic principles (e.g. the existence and centrality of the unconscious and transference, and the relationship between defense mechanisms and conflicted wishes to symptom formation), which characterized the practice of mainstream psychiatry until the 1980s, are being used once again in innovative ways. I have argued that even amongst psychoanalysis's most staunch supporters, the resistance to the medicalization of mental health troubles and to the dominance of the biomedical model more broadly is relatively minimal and much less active than in the past (Smith 2014, 2019). Despite these trends, and although psychoanalysis was largely decimated within mainstream psychiatry by the biomedical model starting in the 1980s, many practitioners, even half a century later, are still committed to using its basic principles, in part as resistance to the strictly psychopharmacological training they see junior practitioners receiving. In my work, I explore why and how practitioners have developed innovative ways to ensure there are avenues for the continued relevance of concepts like transference, conflict, and the unconscious. In particular, I plan to explore three interventions that are being used to promote psychodynamic principles both within and outside psychiatry, and I will investigate whether and how they might offer more accessible pathways for patients and practitioners to benefit from this perspective that once dominated the field of mental health.