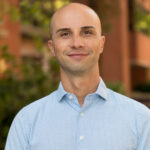 Felipe A. Filomeno
Associate Director, CS3
filomeno@umbc.edu
Public Policy Building 447
410-455-8475
Felipe A. Filomeno, associate professor of political science and global studies, is the  new associate director of the Center for Social Science Scholarship. Dr. Filomeno is an interdisciplinary, community-based scholar focused on human development in the context of Latin America and the Latin American diaspora in the United States. He has been a member of the center's advisory board since its creation in 2018. Together with Dr. Mallinson, he will oversee the Social Sciences Forum, faculty working groups, initiatives for undergraduate research, among other programs.